20 Best Business Platforms with Customer Reviews
The past decade of online development has already persuaded millions of customers and business owners in the necessity of customer reviews. ReviewOne Research showed that a third of respondents regularly study the reviews before they decide to make a final decision about this or that product, service or business. They study the advantages and disadvantages of the enterprise and make their important choice basing it on the experience of other customers.
It means that businesses of all sizes make us pay for their products using a bunch of other people's opinions as a tool. Of course, not all of them are true-to-life, but most of the trustworthy platforms track the activity of the users an check whether the reviews are true or not.

We had to spend hours searching the web for the resources with the most relevant reviews. Besides, we've been looking for the platforms dealing with recent and the most relevant reviews.

There's a couple of well-known customer review platforms that you may probably remember at once, but what if you get a full list of tools to help you deal with businesses of all sorts?

We've made up the list of the best review platforms that can be helpful for business-to-business and business-to-customer companies. Bear in mind, that not all of the review websites are versatile. There are resources devoted to a certain niche (TripAdvisor, OpenTable or UrbanSpoon for instance). This time we've decided to study the websites devoted to all types of industries and businesses, including the niche platforms.
Review Platforms for Business-to-Customer Companies
Amazon started dealing with customer reviews in 1995. It actually is still one of the most popular and effective sources of reviews helping the users all over the world make right decisions about the products and services. Sometimes, the customers have no intention to buy anything directly from Amazon. However, they'll still study the reviews on Amazon before they buy what they need where they please.
It's hard to understand what makes the customers study your product elsewhere before buying it from you. Perhaps, the overall look of the website is more convenient with a five-star rating scale, percentage and other metrics. Note that the most recent and the most helpful reviews are always situated on top of the page attracting the users' attention.
It's one of the top-notch review websites approved by millions of businesses based in the United States. One of the qualitative factors is that the owners of business profiles should pay to use it. Each of the reviews placed on the platform is detailed, checked and thought-out. There's also an A-F rating scale. Another thing that makes the platform non-typical in comparison to the other review sites is the absence of anonymity. This way the site filters the phonies and disreputable businesses. Besides, the site gives a possibility to respond to the users' reviews.
Make up your company's page and wait for the fair and versatile reviews from the legal members of the platform! Encourage your clients to do the same.

Choice – is an Australian based review platform. It's independent, it deals with product and service testing with the help of their professional team. Most part of their work is devoted to tests, comparisons, and posting of long and detailed guides about products and services that they demonstrate on the platform. Additionally, Choice allows discussions of certain brands between the users. Don't hesitate and encourage your clients to leave feedback about your services and products if you do your business in Australia. It's very effective.
That's a relatively young and a fast-growing Danish customer review website. They've broadened their activity in 65 European countries as well as in the United States. The platform can be characterized by intense worldwide activity in posting fresh reviews from the customers. Both seller and product reviews are verified before they are placed on the platform.
The site has a free and a paid version for the business owners. The free version allows you to make up your company's profile and collect reviews from the clients. The paid version lets the business owners create invitations, notifications, discussions in social networks, and sharing ratings. The paid version also allows the business owners to connect the collected review data with their own online business systems.
This company was founded in Sweden and its activity can be compared to one of the TrustPilot review platforms. The website allows posting customer reviews as well as seller reviews.
There's also a delightful new addition – a possibility to answer the questions of the customers. Your customer service professionals can give direct answers to the customers' questions with the help of this system.

This is one more independent platform dealing with testing and comparison of services and products. The site is filled with reviews and guides. One of the specific characteristics of Which? is that the platform is controlled by the professionals who write the reviews on their own. They use surveys and a notification system to collect the opinions of the customers, but they create the final reviews on their own.

Of course, it gives business owners less room for action. However, it's one of the most popular resources due to its professionalism and it actually deserves your attention if you're a responsible businessman. Which? certainly has an influence in the Net. They review absolutely everything from washing machines to credit cards. They test the products using various methodologies and share the results with the users. They also organize regular customer surveys to identify the best and the worst businesses.

The content on the platform is mostly free. There's also a paid version that gives customers a possibility to get info about the best and the worst items tested in the laboratories.

An independent non-profitable organization that rates products according to the results of their personal tests. Basing on the results they decide whether they can recommend the product or not. They review the items themselves, they are not involved in advertising, and they pay for every single item they get for the testing. The curious thing is that they have to buy up to 80 cars every year to use them for the tests. ConsumerReports won't give much working space for a business owner, but it's a really good source of information that you can use not to make mistake in your business.

Besides, you can use the site as a perfect resource for content. They review the items basing on various criteria; they add detailed overviews and long guides. Besides, there's a possibility of sharing the information from the site in social networks. That's a very comprehensive catalog with a ton of structured useful information.

TripAdvisor is the best choice for the lovers of traveling and entertainment. It's popular among people spending much time on the road and in the hotels in various parts of the world. That's, probably, the most successful customer review platform in the niche. There are millions of reviews posted there as well as the photos and opinions of real people. TripAdvisor also contains guides, airfares, rental prices as well as forums with tips. The platform is ready to provide you with the information about any corner of the world.
If you want to be successful on TripAdvisor, you should be able to get your profile as close to their ranking algorithm as it's possible. Keep in mind, that your profile will be popular if it corresponds to three main points: recency of reviews, their quantity, and quality. When people use TripAdvisor, they seek for a specific information about a specific place. Here are the tips the professionals of the platform share with those who want to speed up their business development:
Quantity: Encourage your guests to post reviews and use the instruments on the platform to send notifications. Stimulate your clients, but don't forget about the privacy policy – pay special attention to the rules posted on TripAdvisor to know whether you're doing everything right or not.

Quality: If your clients get maximum hospitality and enjoyable memories, they will surely leave you a positive feedback. Never stop monitoring the reviews to check out the drawbacks of what you do and develop your successful ideas.

Recency: Your profile will be ranked popular on the platform if you keep the new customer reviews coming. Don't forget about encouraging your clients to leave regular fresh reviews with pictures.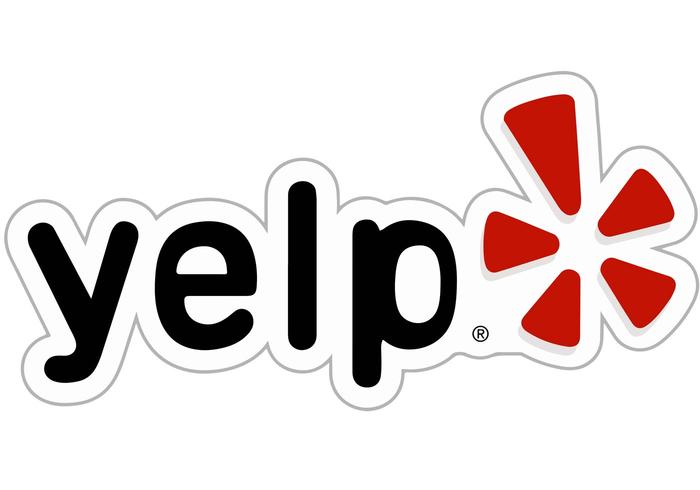 Yelp uses a five-star rating scale and allows its users to leave reviews for free. The platform is open to businesses of all types. There's also a possibility to contact with the users. The only thing that you should remember is that the users of Yelp make up a very tight community with its inner regulations. Be polite and tolerant to negative comments. Do your best to reassure your potential clients and be good to them.

Unfortunately, recently Yelp was involved in an inappropriate affair with the customers placing bad reviews and asking businesses to pay them money to replace the bad reviews for the good ones. However, it hasn't been long and you shouldn't ignore this platform because of one incident.

Yelp is still offering its users a possibility to get millions of positive reviews for local businesses mostly. If you manage to organize a non-stop flow of positive reviews for your business on Yelp, you'll get your account on top. Your business profile on Yelp will also contain info about location and working hours, so it will be easily found through Google search.

This customer review system works on the base of a new Pigeon algorithm. It uses info about location and distance to give its users more detailed and useful results. If you want the website of your business to be optimal for the Google search machine, you need to pay special attention to Google My Business – one of the local directories of Google. It contains comments, discussions, pictures, and reviews that will boost up your business in case if you do everything right. Remember, that you'll need to have verified accounts – only this way you'll be able to react to your customers' reviews.

One of the pleasant bonuses here is that basic information, as well as reviews from Google My Business, will appear in Google Maps. It will automatically give your business some reputation points.

Yahoo! Local Listings works in a similar way as Google does. It collects the reviews and ratings of the users and adds the information to the online map. It looks like this: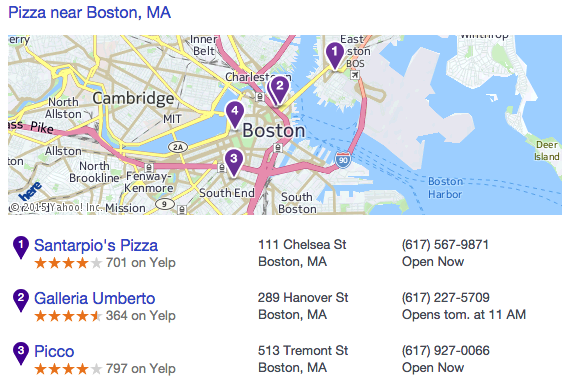 Yahoo! gets up to 10% share from the search engine and it won't hurt your business if you place your business account there.
Review Platforms for Business-to-Business Companies
More than 2 million viewers every month prove that this B2B platform is extremely popular and productive.

They collect thousands of reviews monthly. Each of the users is registered and authenticated, which makes up a large community of legal users. FinancesOnline accumulates reviews basing on in-depth surveys and polls. They also present quarterly reports formed on the base of their specific algorithms.

Every single review on the platform is accompanied by a deep analysis carried out with the help of experts in mobile integration, support, and other features. The next step is a SmartScore™ system used to share the experts' opinions about this or that business with the community.
An additional sweet feature is that pages with products reviewed by FinancesOnline are highly ranked by Google search engine. It means that positive reviews placed on this platform will let your business get more recognition in the Net.

This customer review platform will be more useful for business owners dealing with selling software. About a million people seek for software annually. Before they proceed with the deal, thy study up to 300,000 customer reviews from G2 Crowd. This site is a helpful tool for making the right purchasing decision.
The platform works almost the same way as Yelp. The difference is that it operates with a special type of product. There's a five-star rating scale on the page and a corner of reviews. The reviews are devoted to everything from installation process to the use of the software. Users have a possibility to vote for the reviews they like and downvote the reviews that turned out to be useless.
A customer review platform that also deals with software selling businesses. The users are allowed to leave reviews only if they're authenticated through LinkedIn. This makes the reviews trustworthy because each of them was officially checked and approved. However, there's still an opportunity to leave the feedback anonymously.

TrustRadius can be used by small and medium-sized businesses, by single companies or by companies working in collaboration with each other, demonstrating competitiveness in ratings and reviews.

One of the nice bonuses to the reviews is a number of guides for the buyers on the platform. The guides are created by talented professionals and devoted to all types of software from business intelligence apps to social media. The software is regularly tested for more guides and reviews.

The name of the platform says that it's devoted to customer reviews of applications. As a business owner, you'll be able to track the success of your products through ratings and reviews. There's a typical five-star scale on the platform. The reviews are listed in a specific order with the top helpful ones coming first (no matter whether they were positive or negative – the key word here is "helpful"). The reviews can be sorted out by helpfulness, date, and rating. Salesforce AppExchange looks transparent and trustworthy.
Review Platforms for Business-to-Business and Business-to-Customer Companies
An independent non-profit platform that works with all sorts of businesses. They never deal with direct recommendations – they simply make hints to their users with the help of information posted on the site regularly. Accredited and non-accredited businesses work in collaboration with this resource.

A typical BBB business profile has general info (company's bio, for instance), short history and accreditation status. Besides, in addition to the regular customer reviews, it collects the complaints of the customers and information on whether these complaints were resolved or not.

Glassdoor is useful for everyone: for the employees looking for trustworthy employers and for the investors willing to evaluate the potential of certain businesses. The platform actually can help its users to get an in-depth review of any desired company authorized there.

Employees share their insiders' view on various businesses. They share their working experience and rate the employers. This makes Glassdoor one of the sources of candidates for recruiting. The reviews left by regular customers also make up for the development of businesses of all sizes.
If you're an employer, you can create a free account, track the users' reviews and respond to them. You can even set a system of notifications to get an email each time a user posts a review about your business.


More Platforms with Customer Reviews
You can find reviews from customers anywhere in the Net – it's not only about specific platforms. Numerous businesses actively use social platforms and mobile applications for advertising and placing reviews. Social presence for businesses is very encouraging for the users.
Let's have a look at the websites that can become a nice addition to the regular customer review resources. These websites are just awesome due to the incredible reach to the public. Socializing can actually control a lot more than you may think.

Have you ever heard that Facebook has a special space for users willing to leave positive and negative reviews on various businesses in the area? Well, this place actually exists. It's called Facebook Ratings & Reviews. It is situated to the left of your habitual Facebook Page.

Anyone having an account at Facebook has a possibility to leave reviews about various businesses and products and share them with the users within the social network. Just enter the section named Reviews and share your experience. The feedback can be left open to the public or not – it depends on the settings you choose in the profile.

The nature of Twitter is extremely rapid. This platform is perfect for accumulating and sharing fresh reviews. Unfortunately, users don't use Twitter for searching reviews as it happens with the other customer review platforms. However, everything posted through Twitter is automatically indexed in various search engines all over the Net. It means that a single tweet may serve as a small investment in your business.

Keep in mind that your customers may be too lazy or to busy to create authorized accounts on Google, Yelp or Angie's List to give you a feedback that actually deserves attention. If you're willing to improve your reputation, invest in your website.

You need to understand that your personal website deserves the same amount of attention as you invest in various customer review platforms. Dedicate a part of your webpage to the real reviews of your clients and encourage them to leave reviews sending notifications. Make sure that your website has a special zone for the customers and their positive feedback. Work on the design and visibility of your landing page as well as the product pages. Organize discussions, build-in the social buttons for sharing and communicate with your customers.
…
Write and post reviews for 3$